27 | Thumper (with Kerry Arnold of Bigfoot Odyssey)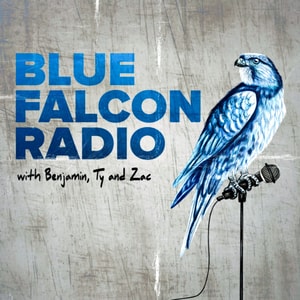 In episode 27, Benjamin, Ty, Zac and special guest: Kerry Arnold of Bigfoot Odyssey discuss Kerry's encounter with bigfoot, Kerry's YouTube show - Bigfoot Odyssey, and Thumper the rabbit!
KERRY'S ENCOUNTER WITH BIGFOOT: https://www.youtube.com/watch?v=8tJ3NYW8C-s&list=PLaxotMCV2meuYScLAZcz6iiOG1Uuvs8KV&index=5
FOLLOW BLUE FALCON RADIO!!
@BFALCONRADIO - TWITTER
@BLUEFALCONRADIO - INSTAGRAM
@BLUEFALCONRADIO - FACEBOOK
@BLUE_FALCONRADI - SNAPCHAT
REPRESENT AND SUPPORT THE SHOW WITH BFR MERCH!
www.teespring.com/stores/blue-falcon-radio-store
E-mail your questions to be aired on the show to BLUEFALCONRADIO@GMAIL.COM
Also, visit our Patreon page at WWW.PATREON.COM/BLUEFALCONRADIO where you can support BFR for as little as $2 a month!
Thank you to our producers, Samantha Bosse, Tory Morabito, Kara Acino, Aussie Dan, and Adam from Australia!
Support Blue Falcon Radio by donating to their Tip Jar: https://tips.pinecast.com/jar/bluefalconradio
Send us your feedback online: https://pinecast.com/feedback/bluefalconradio/0970246c-edfe-496e-b33d-24664c5cca0e