16 | God Is... | The Season 1 Finale (with Matty Ice & Nick Roussel)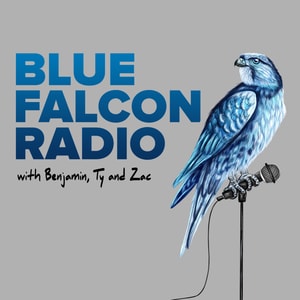 In episode 16 and the season 1 finale, Benjamin, Ty, & Zac discuss the incident in Minneapolis, the existence of God and the future of Blue Falcon Radio!
Follow Matty Ice @hvakjak2 and Nick Roussel @nicholasroussel on Instagram!
FOLLOW BLUE FALCON RADIO!!
@BFALCONRADIO - TWITTER
@BLUEFALCONRADIO - INSTAGRAM
www.facebook.com/bluefalconradio - FACEBOOK
@BLUE_FALCONRADI - SNAPCHAT
REPRESENT AND SUPPORT THE SHOW WITH BFR MERCH!
www.teespring.com/stores/blue-falcon-radio-store
E-mail your questions to be aired on the show to BLUEFALCONRADIO@GMAIL.COM
Also visit our Patreon page at WWW.PATREON.COM/BLUEFALCONRADIO where you can support BFR for as little as $2 a month!
Thank you to our producers, Samantha Bosse, Tory Morabito, Kara Acino and Adam from Australia!
This podcast is powered by Pinecast.