46 | Everyone Has A Story (with Joe Smarro)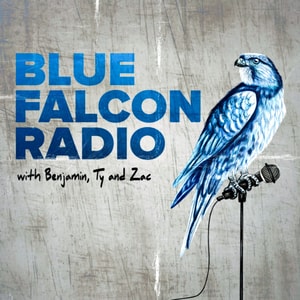 In episode 46, Benjamin, Ty, Zac, and special guest Joe Smarro discuss the HBO documentary called Ernie and Joe: Crisis Cops, the importance of maintaining mental health, effective communication, coping with trauma, painting, TedX, and the blue octopus!
Joe Smarro is a retired police officer who worked for the San Antonio Police Department in the Mental Health Unit. An HBO documentary titled "Ernie and Joe: Crisis Cops" was then created by Jenifer McShane. The documentary follows Ernie Stevens and Joe Smarro as they go about changing the way police approach individuals experiencing a mental health crisis. Joe is presently a public speaker and owner of Solution Point Plus, LLC.
WATCH THIS INTERVIEW ON YOUTUBE: https://youtu.be/3V_WULgwQoA
FOLLOW JOE SMARRO!!
@JOESMARRO - INSTAGRAM
@JOESMARRO - TWITTER
@SOLUTIONPOINTPLUSLLC - INSTAGRAM
@SOLUTIONPPLUS1 - TWITTER
FOLLOW BLUE FALCON RADIO!!
@BFALCONRADIO - TWITTER
@BLUEFALCONRADIO - INSTAGRAM
@BLUEFALCONRADIO - FACEBOOK
@BLUE_FALCONRADI - SNAPCHAT
REPRESENT AND SUPPORT THE SHOW WITH BFR MERCH!
www.teespring.com/stores/blue-falcon-radio-store
E-mail your questions to be aired on the show to BLUEFALCONRADIO@GMAIL.COM
Also, visit our Patreon page at WWW.PATREON.COM/BLUEFALCONRADIO where you can support BFR for as little as $2 a month!
Thank you to our producers, Ellis Donaldson, Tammy Frye, Nick Roussel, Samantha Bosse, Kara Acino, Aussie Dan, Shaun Paciorek and Brock Schank!
Support Blue Falcon Radio by donating to their Tip Jar: https://tips.pinecast.com/jar/bluefalconradio
Send us your feedback online: https://pinecast.com/feedback/bluefalconradio/1d0ecbf8-fb19-45ca-b7bf-e5facc8dd8bb