42 | It Happened in the Wal-Mart Parking Lot (with Nathan G.)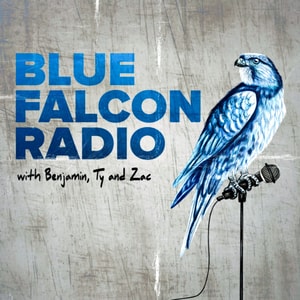 In episode 42, Benjamin, Ty, Zac, and special guest Nathan discuss crashing cars, the United States military, running from police, rough upbringings, turning your life around, and Taco Bell!
Nathan is a current law enforcement officer in the state of Nebraska. He also served in the United States Marine Corps. He grew up in and out of foster care and endured physical abuse which ultimately led to him embarking on a very dark path until he was expelled from high school. It was at this moment when he decided to make a change for the better...
FOLLOW BLUE FALCON RADIO!!
@BFALCONRADIO - TWITTER
@BLUEFALCONRADIO - INSTAGRAM
@BLUEFALCONRADIO - FACEBOOK
@BLUE_FALCONRADI - SNAPCHAT
REPRESENT AND SUPPORT THE SHOW WITH BFR MERCH!
www.teespring.com/stores/blue-falcon-radio-store
E-mail your questions to be aired on the show to BLUEFALCONRADIO@GMAIL.COM
Also, visit our Patreon page at WWW.PATREON.COM/BLUEFALCONRADIO where you can support BFR for as little as $2 a month!
Thank you to our producers, Johnathan Weitzel, Ashley Jackson, Ellis Donaldson, Tammy Frye, Nick Roussel, Samantha Bosse, Kara Acino, Aussie Dan, Shaun Paciorek and Brock Schank!
Support Blue Falcon Radio by donating to their Tip Jar: https://tips.pinecast.com/jar/bluefalconradio
Send us your feedback online: https://pinecast.com/feedback/bluefalconradio/4ebea3ba-e695-4456-b8b1-7c1ebd6c259b