39 | Felt the Sting, Ain't No Thing (with Mark DeMayo)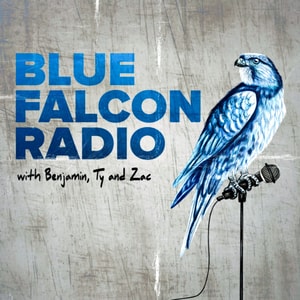 In episode 39, Benjamin, Ty, Zac and special guest Mark DeMayo discuss COVID-19, Mark's career as a detective for the NYPD, stand-up comedy, 9/11, robbing laundromats, rats, and people having sex with robots!
Mark DeMayo is a retired NYPD detective who served for 20 years. He now pursues stand-up comedy and acting full time. He also has a podcast of his own called "Police Off the Cuff" which he co-hosts with retired NYPD Sergeant, Bill Cannon.
FOLLOW MARK DEMAYO AND POLICE OFF THE CUFF!!
@MARKDEMAYO - INSTAGRAM
@MARKDEMAYO - TWITTER
@POLICEOFFTHECUFF - INSTAGRAM
FOLLOW BLUE FALCON RADIO!!
@BFALCONRADIO - TWITTER
@BLUEFALCONRADIO - INSTAGRAM
@BLUEFALCONRADIO - FACEBOOK
@BLUE_FALCONRADI - SNAPCHAT
REPRESENT AND SUPPORT THE SHOW WITH BFR MERCH!
www.teespring.com/stores/blue-falcon-radio-store
E-mail your questions to be aired on the show to BLUEFALCONRADIO@GMAIL.COM
Also, visit our Patreon page at WWW.PATREON.COM/BLUEFALCONRADIO where you can support BFR for as little as $2 a month!
Thank you to our producers, Tammy Frye, Nick Roussel, Samantha Bosse, Kara Acino, Aussie Dan, Shaun Paciorek and Brock Schank!
Support Blue Falcon Radio by donating to their Tip Jar: https://tips.pinecast.com/jar/bluefalconradio
Send us your feedback online: https://pinecast.com/feedback/bluefalconradio/51a963d9-ba92-4476-a91a-db2ac2e9f500