37 | You Have to Hit Rock Bottom Sometimes (with Craig Gibson)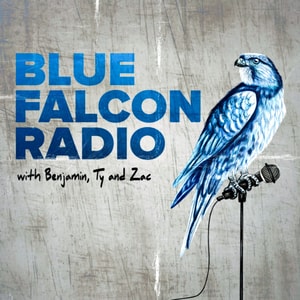 In episode 37, Benjamin, Ty, Zac, and special guest Craig Gibson discuss post traumatic stress disorder, stress in policing, traumatic experiences, and suicidal emu birds!
Craig Gibson was a New South Wales police officer for several years. He is now the host of his own podcast,"The Craig Gibson Podcast". Craig is a life coach, as well, and focuses on helping people battling mental illness, most notably post traumatic stress disorder.
FOLLOW CRAIG GIBSON!!
@CRAIG_GIBSON75 - INSTAGRAM
CRAIG GIBSON PODCAST - SPOTIFY
FOLLOW BLUE FALCON RADIO!!
@BFALCONRADIO - TWITTER
@BLUEFALCONRADIO - INSTAGRAM
@BLUEFALCONRADIO - FACEBOOK
@BLUE_FALCONRADI - SNAPCHAT
REPRESENT AND SUPPORT THE SHOW WITH BFR MERCH!
www.teespring.com/stores/blue-falcon-radio-store
E-mail your questions to be aired on the show to BLUEFALCONRADIO@GMAIL.COM
Also, visit our Patreon page at WWW.PATREON.COM/BLUEFALCONRADIO where you can support BFR for as little as $2 a month!
Thank you to our producers, Samantha Bosse, Kara Acino, Aussie Dan, Shaun Paciorek and Brock Schank!
Support Blue Falcon Radio by donating to their Tip Jar: https://tips.pinecast.com/jar/bluefalconradio
Send us your feedback online: https://pinecast.com/feedback/bluefalconradio/5f08b762-b350-4e19-b2e1-3c68c6d09bca