50 | We're All Crying Now (Hot Ones Wing Challenge)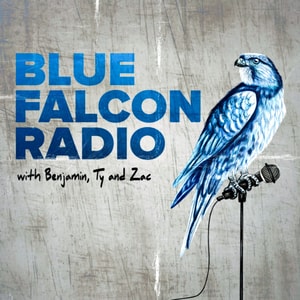 WATCH THIS EPISODE ON YOUTUBE: https://youtu.be/6i47BSiJCog
In episode 50, Benjamin, Ty, and Zac try the season 14 lineup of the hit YouTube show, "Hot Ones" hosted by Sean Evans. Make sure to watch this one on YouTube! Also, if the sounds of chewing triggers you like it does Ty, maybe skip this episode. We understand.
FOLLOW BLUE FALCON RADIO!!
@BLUEFALCONRADIO - INSTAGRAM
@BLUEFALCONRADIO - FACEBOOK
@BLUE_FALCONRADI - SNAPCHAT
REPRESENT AND SUPPORT THE SHOW WITH BFR MERCH!
www.teespring.com/stores/blue-falcon-radio-store
E-mail your questions to be aired on the show to BLUEFALCONRADIO@GMAIL.COM
Also, visit our Patreon page at WWW.PATREON.COM/BLUEFALCONRADIO where you can support BFR for as little as $2 a month!
Thank you to our producers: Ellis Donaldson, Tammy Frye, Samantha Bosse, Kara Acino, Aussie Dan, Shaun Paciorek and Brock Schank!
Support Blue Falcon Radio by contributing to their Tip Jar: https://tips.pinecast.com/jar/bluefalconradio
Send us your feedback online: https://pinecast.com/feedback/bluefalconradio/5f19272b-2cba-405f-90e8-6e0269177575