38 | The Day the Switch Flipped (with Marc Hildebrand)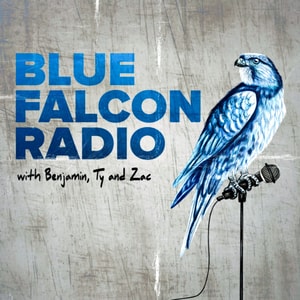 In episode 38, Benjamin, Ty, Zac and special guest Marc Hildebrand discuss health & fitness, the problem with the media, hitting rock bottom, President Joe Biden, and superb owls!
Mark Hildebrand is a Sergeant for the Los Angeles Police Department. He also hosts a podcast of his own called "LEO Family Fitness" where he focuses on helping others improve their quality of life through spreading motivation related to health, nutrition and fitness.
FOLLOW MARC HILDEBRAND!!
FOLLOW BLUE FALCON RADIO!!
@BFALCONRADIO - TWITTER
@BLUEFALCONRADIO - INSTAGRAM
@BLUEFALCONRADIO - FACEBOOK
@BLUE_FALCONRADI - SNAPCHAT
REPRESENT AND SUPPORT THE SHOW WITH BFR MERCH!
www.teespring.com/stores/blue-falcon-radio-store
E-mail your questions to be aired on the show to BLUEFALCONRADIO@GMAIL.COM
Also, visit our Patreon page at WWW.PATREON.COM/BLUEFALCONRADIO where you can support BFR for as little as $2 a month!
Thank you to our producers, Samantha Bosse, Kara Acino, Aussie Dan, Shaun Paciorek and Brock Schank!
Support Blue Falcon Radio by donating to their Tip Jar: https://tips.pinecast.com/jar/bluefalconradio
Send us your feedback online: https://pinecast.com/feedback/bluefalconradio/8f535b56-c228-4867-9a54-7f93f96f3935