30 | Be An Organ Donor (with Joseph Jackson)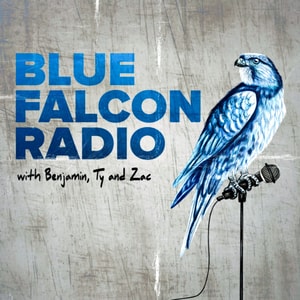 In episode 30, Benjamin, Ty, Zac, and special guest Joseph Jackson discuss Joseph's fight for his life, the importance of being an organ donor, and things pressing against zippers!
FOLLOW JOSEPH JACKSON!!
@JJACKSON1987 - INSTAGRAM
@SUPERSECRETTECHMTG - YOUTUBE
@SUPERSECRETTECH_MTG - TWITCH
FOLLOW BLUE FALCON RADIO!!
@BFALCONRADIO - TWITTER
@BLUEFALCONRADIO - INSTAGRAM
@BLUEFALCONRADIO - FACEBOOK
@BLUE_FALCONRADI - SNAPCHAT
REPRESENT AND SUPPORT THE SHOW WITH BFR MERCH!
www.teespring.com/stores/blue-falcon-radio-store
E-mail your questions to be aired on the show to BLUEFALCONRADIO@GMAIL.COM
Also, visit our Patreon page at WWW.PATREON.COM/BLUEFALCONRADIO where you can support BFR for as little as $2 a month!
Thank you to our producers, Samantha Bosse, Tory Morabito, Kara Acino, Aussie Dan, and Adam from Australia!
Support Blue Falcon Radio by donating to their Tip Jar: https://tips.pinecast.com/jar/bluefalconradio
Send us your feedback online: https://pinecast.com/feedback/bluefalconradio/e744b2e1-3b64-4a6f-85c5-ff5ebad7c7b5